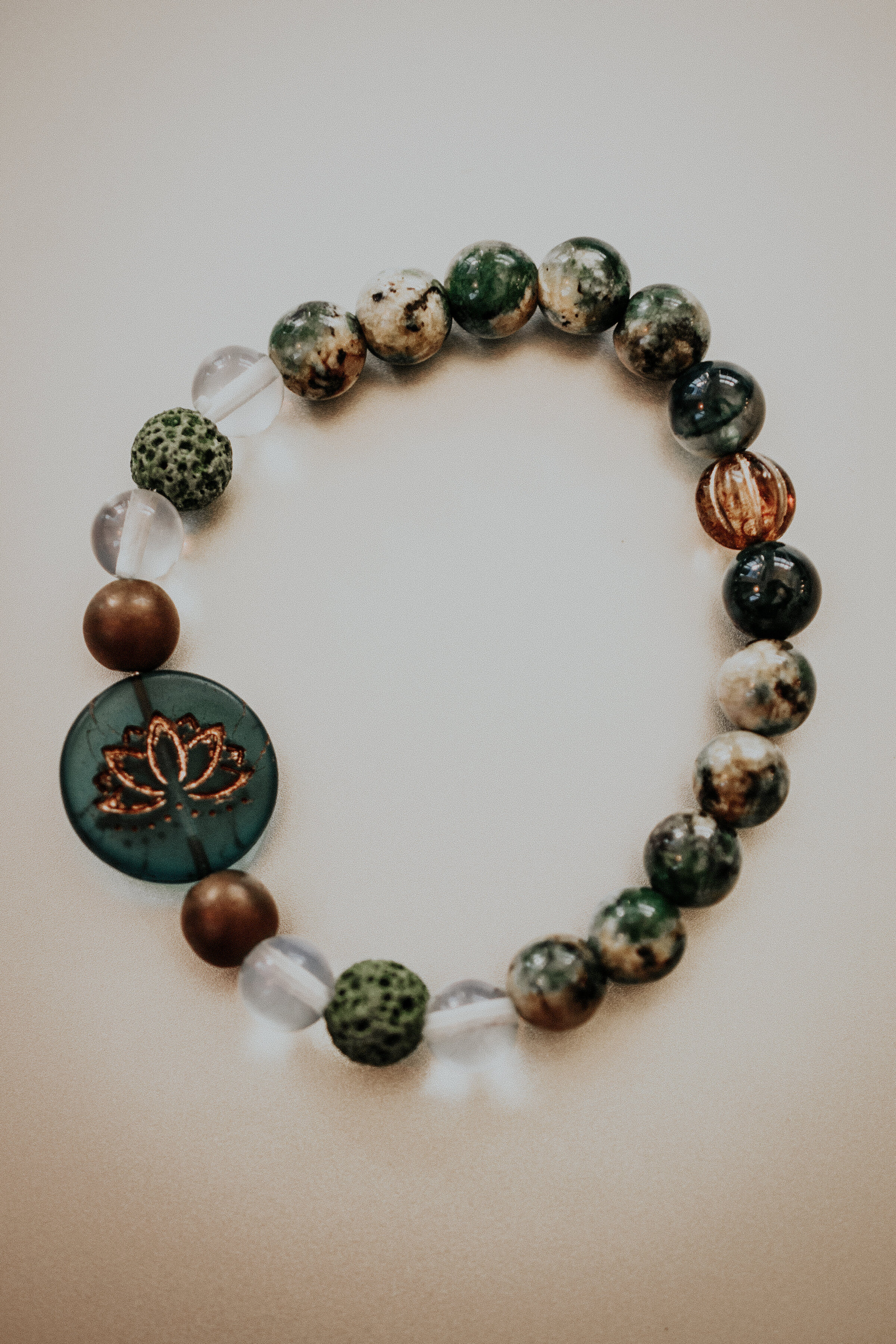 LOTUS Bracelet
The LOTUS bracelet brings renewal and light from dark situations. Wear this bracelet and feel
open, balanced, connected with your highest purpose and courage to speak your truth. Purifying your emotions welcoming in a soothing and calm state with the lotus bracelet.

Green/Yellow Jade - Increases love and nurturing. A protective stone, Jade keeps the wearer from harm and brings harmony. Jade attracts good luck and friendship. It stabilises the personality and promotes self-sufficiency.

Blue Agate - Throat chakra, cleanses and stabilizes the aura, eliminating and transforming negativity. Agate enhances mental function, improving concentration, perception and analytical abilities. It soothes and calms, healing inner anger or tension and creates a sense of security and safety.

Gold Hematite - Absorbs negative energy and calms in times of stress or worry. Hematite is a very protective stone and is great to carry to help you stay grounded in many situations. Hematite is also good for working with the Root Chakra, helping to transform negative energies into a more positive vibration
Aura Quartz - Known as the stone of power and amplifies any energy or intention, also energy from another stone. Aura Quartz protects against negativity, attunes to your higher self, and relieves pain. It's the stone of attainment to beauty that assists us in the beauty that surrounds us. Helps with peace and spiritual awareness.
Gold Czech Glass- Helps solar plexus chakra located in the center of the torso above the navel, is a central location for nerves within the abdominal area. Helps to assist expression of will, personal power, and mental abilities.

This design features lava stone which provides the ability to apply essential oil which is another way to add peace with your practice and throughout your day.

As these beautiful stones are from earth, each stone is unique. Color, shape, and style varies.